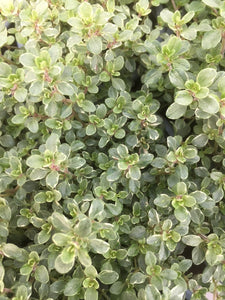 HARDY EVERGREEN PERENNIAL. Ht 20cm.

This plant produces pink flowers in summer. It has variegated grey/ silver leaves with a strong lemon scent and is an excellent culinary thyme. It goes particularly well with chicken dishes and salad dressings. Add the leaves or sprigs of this plant to stews, sauces, salads, pork, chicken, fish, roast potatoes and marinades.
Plant in poor, well-drained soil in full sun.