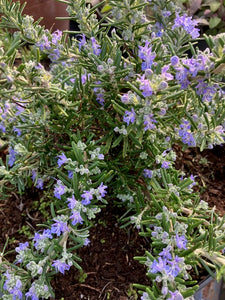 HARDY EVERGREEN PERENNIAL. Ht 50cm.
This is a bushy, aromatic, semi-prostrate variety that forms a dome shape then arches over and trails. Small pale blue flowers are produces in spring. This a particularly good variety for growing in pots.
Add the leaves fresh or dried to lamb, goat, sausages, stuffing, soups, stews, casseroles, tomato sauces, baked fish, rice, salads, egg dishes, roast potatoes, cordials, vinegars and oils.
Plant in well-drained soil in full sun.