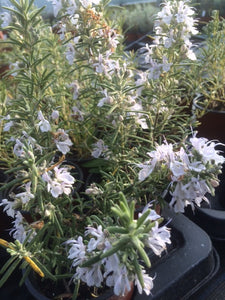 HARDY EVERGREEN PERENNIAL. Ht 2m.

This plant produces pale blue/white flowers in spring/summer and is highly aromatic.
Arp is particularly cold tolerant and has slightly more greyish leaves then standard rosemary. Add the leaves fresh or dried to lamb, goat, sausages, stuffing, soups, stews, casseroles, tomato sauces, baked fish, rice, salads, egg dishes, roast potatoes, cordials, vinegars and oils. Plant in well-drained sandy soil in full sun.