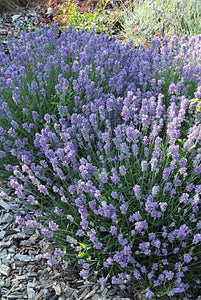 HARDY EVERGREEN PERENNIAL. Ht 35cm.
A dwarf, bushy, compact, free flowering plant that produces prolific spikes of fragrant pale lilac/ blue flowers in summer. This is a good variety for low hedging, borders, pathways and containers.
The flowers can be crystallised, added to jams, jellies, ice cream and vinegar. The leaves can be used sparingly in salads, marinades, soups and stews. Plant in well-drained soil in full sun.