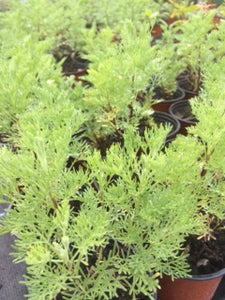 HARDY PERENNIAL. Ht 1.5m.

Closely related to Southernwood.
This plant has aromatic, feathery bronze foliage, which produces yellow flowers in summer. The leaves of this plant have a remarkable scent of cola.
Add the fresh shoots of this plant to flavour sauces, salads, cakes, desserts, roasted meats, summer drinks, cocktails and herb teas.
Plant in well-drained, soil in full sun/part shade.