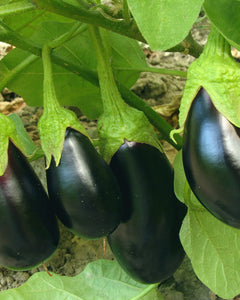 Aubergine (Moneymaker F1)
Ht 75cm.

This variety is easy to grow and has excellent fruit quality. The fruits are not as bitter as other popular varieties and tend to mature slightly earlier.
For best results grow in a greenhouse or conservatory.
Aubergines can be grown outside; however, they will need to be in a warm, sunny and sheltered spot. Plant in rich, well-drained soil in full sun and feed regularly.