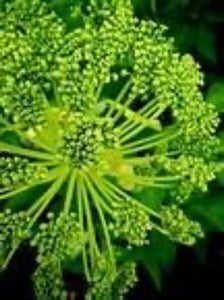 Angelica (Taiwaniana)
BIENNIAL. Ht 1.2-1.8m.
This giant variety is from Taiwan and is a clump forming biennial. It produces purple-bracted umbels of dense, cream, football-sized flower heads on thick purple stems, followed by heavy heads of perfumed seeds. Once mature, this plant will take up a lot of space so be sure to choose the best spot for it.
Plant in rich, fertile soil in part shade.